Come 21st June, Sunday, at 5pm GMT, SAJDA Season 2 will have its final Facebook live concert on its Sajda Festival UK page. With the theme of paying tribute to Unsung Heroes from all walks of life particularly music, the Grand Finale will also pay tribute to the golden memories of the yesteryears through musical compositions on flute. The show is expected to have a huge viewing with eminent guests Amish Tripathi and artiste Soumyajyoti Ghosh participating in the Grand Finale.
Amish Tripathi, celebrated author and Diplomat, Director of Nehru Centre London will be the guest of honour. Amish has captured the hearts of millions of readers with his fastest selling book series in Indian publishing history, The Shiva Triology and the Ram Chandra Series. Also a columnist, the IIM-Calcutta passed out is presently the head of the cultural wing of the High Commission of India, Director of the Nehru Centre in London, UK. Amish, who has been listed among the 100 most influential celebrities in India from 2012 to 2018, can now be watched live in Sajda Online Festival  Season 2 Grand Finale, say the festival organisers.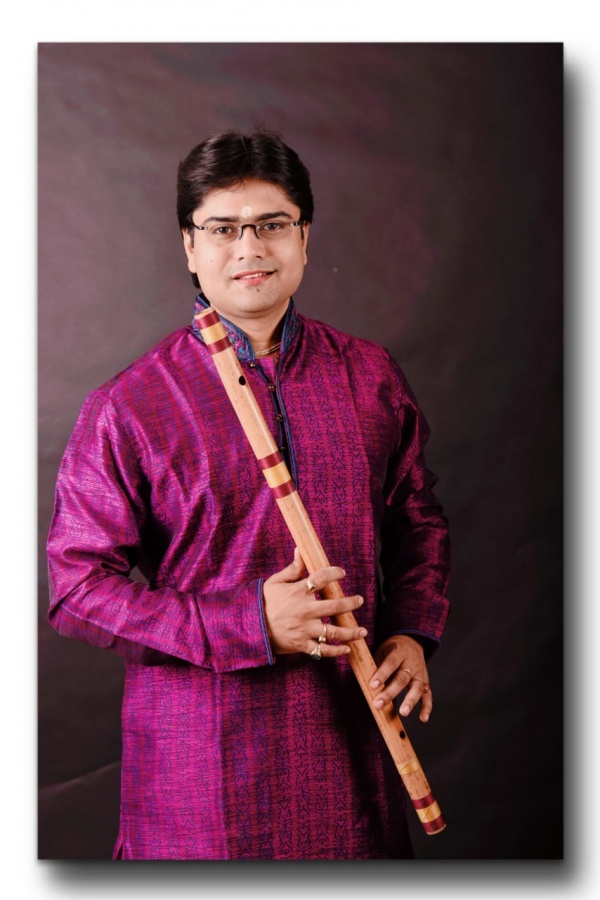 Kolkatta based Soumyajyoti Ghosh is going to captivate the viewers with his ever-endearing flute. One of the favourite disciples of the pre-eminent flute maestro Pt Ronu Majumdar, of the famous 'Maihar' Gharana, and Pt. Ajoy Chakraborti, Ghosh is often mentioned as a musical prodigy, who was selected in the 'All India Radio Talent Contest' at the age of fifteen. One of the top flautists of international repute today, Ghosh has shared stage with eminent artistes like, Pt. Birju Maharaj, Pt. Chitresh Das, Ust. Ghulam Ali, Pt. Debashish Bhattacharya, Pt. Bikram Ghosh, Kavita Krishnamurthy, Koushiki Chakraborty, Rashid Khan and many others. Already he's performed in around 30 countries including Switzerland Bird's eyeJazz Club and Croatia Jazz Festival. He is an empanelled artist of All India Radio and ICCR.
Ghosh will play popular tunes form the golden melodies based on different ragas and also render some light classical compositions to enthral conosieurs, informs the Curator and organiser of the festival Rahul Laud.
Laud further adds, ''Grand Finale 21 June coincides with the International Yoga Day and World Music Day thus it will be more than appropriate for the festival to pay tribute to all in the field of music , health and well being. Sajda as the name suggests is an offering a tribute paying respects to all those who contribute through music and different performing art forms.''
Laud pointed out that the last three weeks with vocal, sitar and harmonica art forms the audience was engaged globally in large numbers. It is learnt that the festival was launched last year LIVE and this year season 2 is being offered to the audience online.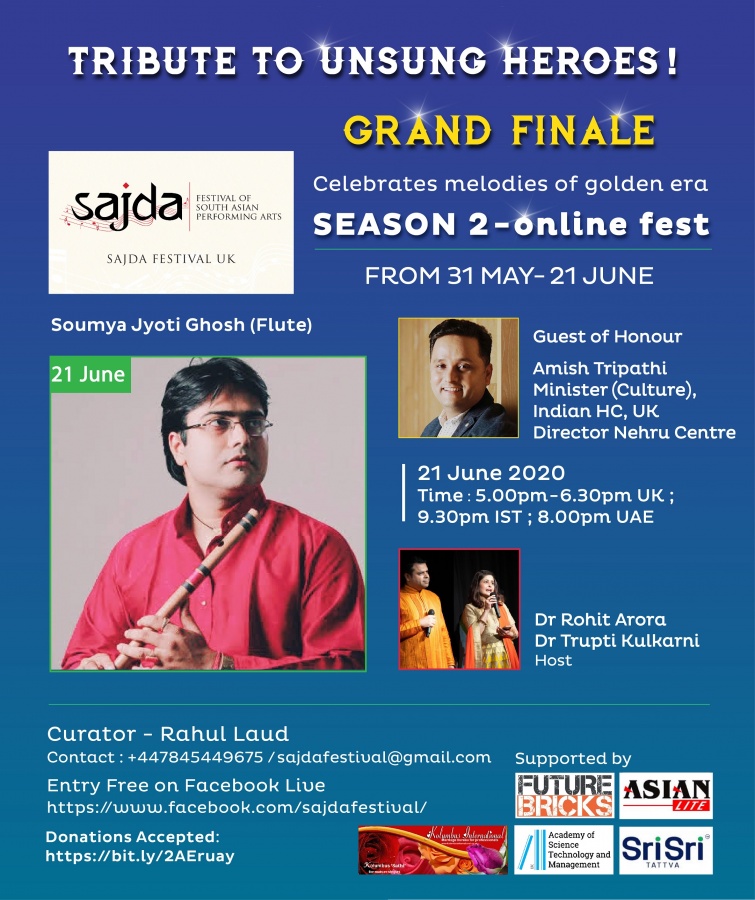 The show will be hosted by Dr. Rohit Arora and Dr. Trupti Kulkarni, charming and popular Manchester based couple who are frontline health doctors at the NHS England .
Since its launch Sajda festival is receiving overwhelming response from various organisations who believe in Sajda's philosophy , passion and activity to promote various performing art forms.
The recent addition is FutureBricks that has been one of Sajda Foundation's active donor for all its online musical concerts. The company founded by a young entrepreneur from Pune, Arya Taware has been shortlisted recently for the "Women in Finance Awards", under the category of FinTech Champion of the year 2020. Most Recently, FutureBricks has also been selected as UK's 70 fastest-growing tech firms by tech group, Silicon Valley Comes to the UK (SVC2UK). FutureBricks is an asset-backed lending platform and an appointed representative of an FCA authorised firm offering a gateway to investing in property development projects across the UK. ASTML have launched a big initiative in teaching higher order thinking skills in primary and secondary schools in STEM subjects promoting love for Science and Technology in our future generations. Kolumbus is an international marriage bureau headed by Madhavi Amdekar. This enterprise is exclusive to mature singles with extremely high credibility, and repute.
Looking at the holistic approach to music and well being , Sri Sri Tattva UK Bio which is the home of premium quality Ayurveda, which has won the "Best Healthcare Brand" by The Economic Times India in 2016 who also share   a holistic approach to health and wellness with nearly four decades of experience in producing premium quality Ayurvedic cosmetics and Ayurvedic supplements have joined the festival to support. A part of product sale of this company proceeds is directed to social initiatives around the world. Such projects include women empowerment, natural disaster aid, free schooling and rural development. A popular product of Sri Sri Tattva is Sudanta Toothpaste, which has become internationally renowned for providing a natural approach to oral care. One of the major benefits of Sudanta is that the toothpaste is Vegan and completely free from fluoride!
The festival organisers also acknowledge media support from BBC Radio Manchester, and BBC Radio Lancashire, Asian Lite and Global Indian Stories.com.
This is yet another not to miss Grand Finale being held online  on: https://www.facebook.com/sajdafestival
Festival accepts donations https://bit.ly/2AEruay
For any further information: Rahul Laud +447845449675; sajdafestival@gmail.com